Elisabeth Brandl
Wedding-Planner
"Celebrating a festival is the most
beautiful way for me, to say thank you to life"
Wedding Vienna - a deep bow to the wedding. The supreme discipline of the festive.
I like many, different styles and could get married every week and try something new. Thank goodness I don't have to. I leave that to you and many other couples. From classic to opulent, traditional, baroque to straight, pure nature or everything in a skilful mix of styles.
Thanks to my years of apprenticeship, I am now all the more pleased that I can be available to you in a completely different quality. Quality is what really gets me. Only when people know their craft, feel joy in doing it and really enjoy the task, the celebration becomes a party. That's the kind of partner I work with.
Seen in this light, this is my very own style: To skilfully use my tried and tested craft to create the magic, the special for you. To invite happiness for you.
You can't take a bite out of my work as a wedding planner, nor can you stick it in the album. Nor can you wear it or eat it. Nevertheless, it is important. It creates the right connections and leaves behind the most valuable thing that lasts: your feeling, which you store in your heart.
That's what life or whoever "designed" me for. The rest is know-how, negotiating skills, staging, mastery. What story will your wedding tell?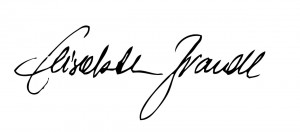 Important to me
+ Beauty and nonchalance - because true beauty is always self-evident. Whether with a tattoo or a diamond necklace. Or both. In any case, I'm all for it.
+ Special - different - different cultures, nations, religions, gay, lesbian. I find diversity magical.
+ Spirit and spirit - because it's always more precious and easier with good vibes - especially at the wedding.
+ VIENNA. For me the most liveable city in the world. I feel it every day and am thrilled by its richness and diversity. The more I get to know it, the more my love for it grows.
+ Boundless - very quietly, the eye for special landscapes and vastness has crept in on me. Not only geographically.
+ Green&Fair" - respectful, mindful treatment and use of people and resources. I have been convinced of this for decades.
+ Being down-to-earth - for me, this means keeping my feet on the ground. Realising big dreams needs deep roots.
+ Friendliness and humour - when nothing else works: laughing is always possible.
+ YES - I like people who give themselves a clear, trusting YES.
Facts - my career
+ Professional training at the Vienna Advertising Academy, specialising in trade fair & event management.
+ Over 20 years as event manager in a leading position in a major international corporation
+ 2007 Foundation of Wedding-Vienna, celebrating without borders - until today
+ 2008 Foundation of BrandlEvents (full service agency) until today
+ 2010 Training as a certified make-up artist (I always want to know exactly)
+ 2012 training as a coach for sustainable nutrition
+ since 2015 head of the diploma course Event Management Wifi Eisenstadt
+ since 2016 Lecturer for Trade Fair & Event Management at the FH Wien in Eisenstadt
+ 2017 TÜV certification for Elisabeth Brandl, as a "Certified Senior Wedding Planner".
+ 2018 Official partner of the Federal Ministry of Sustainability and Tourism of the campaign "Food is precious".
+ 2018 Company certification by the Austrian Chamber of Commerce for Wedding-Vienna as "Austrian Senior Wedding Professional".
+ since 2019 Head of the course "Wedding-Planner" at WIFI Eisenstadt
+ 2019 Award of WIFI Burgenland as "special-other" trainer
+ 2019 Deputy Chairwoman of the Leisure and Sports Association Vienna
+ 2020 Course leader of the first digital training for wedding planners at the WIFI
+ 2020 National spokesperson of the Wedding Planners of Austria