Free wedding ceremony
Elisabeth Brandl,
Hochzeitsrednerin für eure freie Trauung
Was vom Herzen kommt, wird zu Herzen gehen
Eine freie Trauung ist kein Ersatz, keine Notlösung für eine andere Trauungszeremonie und schon gar keine Modeerscheinung.
Als das Besondere, das Einzigartige, das Wunderbare eurer Liebe sicht- und hörbar zu machen, ist die Freie Trauung eine sehr ehrliche und aufrichtige Form, das JA füreinander zu bezeugen. Ihr werdet es spüren.
Du darfst von mir erwarten, dass ich mich auf euch und eure Liebesgeschichte einlasse, mit den unterschiedlichen Möglichkeiten der Freien Trauung vertraut bin und meine Worte sehr persönlich und exklusiv auf Euch abstimme.
Wenn ihr euch kulturelle Besonderheiten wünscht, ist das genauso möglich, wie eure Lieben in die Zeremonie zu integrieren.
Dabei könnt ihr von hunderten Gästen umringt und getragen sein – oder ganz vertraut nur für euch die Zeremonie innig genießen.
Dass ich seit Jahren auch als Wedding-Planner etabliert bin und  mich auf meine Erfahrung hundert Pro verlassen kann,  hat sich bei mancher Zeremonie schon als echter Glücksfall herausgestellt.
Für mich ist das Ritual der Freien Trauung ein "heiliger" und höchst sensibler Akt, den sich zwei Menschen mit einem klaren JA schenken.
Eine hohe Sympathie zu eurer Hochzeitsrednerin ist dabei eine wichtige Voraussetzung.
To find out, I am happy to offer you the free initial consultation.
Made with Love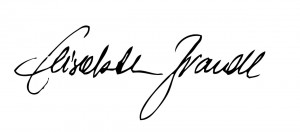 P.S. Mein Hairstyling auf dem Foto habe ich dem lebhaften Wind am Strand von Samos zu verdanken.
Hochzeitsrednerin
This is what you can expect from me as a wedding speaker:
∞ Gemeinsames Gespräch mit Festlegung des Trauungsrituals und der organisatorischen Dinge
∞ Je 1 Stunde Vorgespräch mit jedem von euch exklusiv, entweder persönlich, per zoom oder skype
∞ Besorgung aller für das Ritual benötigten Utensilien
∞ Trauungszeremoniell, Trauungsrede mit all den "Geheimnissen" die ihr mir in unseren Vorgesprächen anvertraut habt,
Kosten: € 1.290,– inkl. MWSt.
+ Reisekosten, sollten diese entstehen
Hochzeitsrednerin & Wedding-Planning. Hochzeit aus einer Hand
So sicher und frei könnt ihr euch fühlen.
Die sinnvolle Symbiose aus Wedding-Planner Services und Hochzeitsrednerin bietet viele Vorteile.  Auch einen monetären.
Da es hier sehr viele Möglichkeiten und Synergien gibt, biete ich euch  gerne an, das Informationsgespräch für eure Klarheit zu nutzen.  Finden wir heraus, ob diese Variante für euch optimal ist. Und wenn: in welcher Zusammenstellung ihr sie nützen wollt.